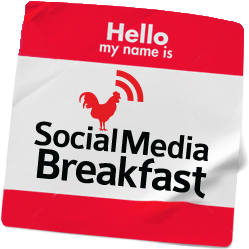 Social Media Breakfast #18 Edmonton - #smbyeg18
8:30 - 10:30 a.m., Friday, June 29, 2012
CBC Centre Stage
The topic for June's SMBYEG is: Tweet! in the Name of the Law!
The Edmonton Police Service social media team, along with several of their tweeters, will be on hand to outline how social media is used at EPS. Their presentation will cover when they began, what they are currently doing, and where they hope to go, in addition to reviewing the purpose, policy and challenges associated with social media use at a public, emergency response based organization. Several tweeting officers and their partners from the City of Edmonton will also speak to their experience using Twitter and answer any associated questions.
Speakers:
Hans Kristian Larsen (
@hklarsen
) – Marketing Coordinator, EPS Recruiting Unit
Carolin Maran (
@carolinmaran
) – Website Content Coordinator, EPS Corporate Communications
Constable Chapman Lee (
@Cst_Lee
) – EPS Downtown Division Constable and McCauley Neighbourhood Empowerment Team (NET) member.
Tricia Boonstra (
@Tricia_NET
) - Social Worker, McCauley Neighbourhood Empowerment Team (NET), City of Edmonton
Kris Andreychuk (
@Kris_NET
) – Social Work Supervisor, Neightbourhood Empowerment Team (NET), City of Edmonton
Where:
CBC Centre Stage -
10062-102 Avenue NW,
123 Edmonton City Centre Mall East,
Edmonton, AB T5J 2Y8
To register, visit: www.amiando.com/smbyeg1
Cost: There is no fee to attend Social Media Breakfasts.
Venue Sponsor
Special thanks to CBC Edmonton for providing the venue and staffing for the events month-after-month.
Food Sponsor
Video Sponsor

Thanks to FusedLogic for live-streaming the events.
We Need Sponsors
For about $200, your organization can get some fantastic exposure at the events and online. It is an very inexpensive way to get quality back links to your website.
About SMBYEG
SMBYEG houses an open environment to share today's best and worst examples of social media, as practiced by individuals, industries and organizations in Edmonton and around the world. Guest speakers share their experience and expertise of social media use, followed by an opportunity to network with a community of like-minded individuals.
Follow @SMBYEG
Please follow @SMBYEG and the SMBYEG Twitter list. This will allow you to connect with all Edmonton Social Media Breakfast followers. The Twitter hashtag is #smbyeg.
We Need Presenters!
If you would like to present at a future breakfast or just connect, please feel free to contact any of the SMBYEG committee members:
Steven Hodges - @HedgeHodge

Jacqui Fraser - @SavageTiner

Morgan Hrynyk - @morgzlive
Donna McTaggart - @DonnaMcT

Kylie Robertson - @kayjer
Christopher Martin - @cbccentrestage

For more information, contact:
Social Media Breakfast YEG @SMBYEG